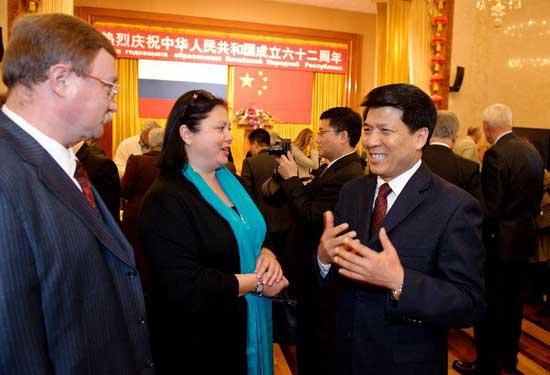 Hu Jiantao INSTRUCTED Vladimir Putin to Ignore Obama and Turn him Down tattered at both G8 and NATO Go-Fuck-Yourself-Summits, if he still likes to be admitted to SCO. As Chinese Ambassador Dickhead to Russia, Li Hui, Stated that "Two Countries' international affairs cooperation to building New International Order in Contrast to World's Existing Multilateral Institutions". Alias New World Order
Here is some Ying Yang from CRI Reporter Stuart Wiggin:
Putin's SCO Visit: Symbolic in Nature
By CRI Reporter Stuart Wiggin
This week marks Russian President Vladimir Putin's first visit to China since reclaiming the presidency as he gets ready to attend the 12th meeting of the Council of Heads of Member States of the Shanghai Cooperation Organization (SCO) in Beijing on June 6 and 7. Putin's visit is incredibly symbolic in that it reveals the importance of the burgeoning strategic relationship between China and Russia and signals a positive shift in Russian diplomacy towards the Asia Pacific region from a security perspective. The visit also takes place in the context of China's increasing desire to purchase Russia's natural resources and Sino-Russian unity regarding issues of international security. The symbolic nature of Putin's visit should not be understated despite the fact that he will be taking part in high-level talks and overseeing the signing of numerous agreements and statements which directly affect the situation of the region. However, one must put Putin's visit in context from an international standpoint in order to understand the importance of the trip. Last month, Putin chose not to attend this year's G8 summit at Camp David which took place on May 18 and 19, informing President Obama that he was too busy forming a government and sorting out cabinet appointments back home in Russia. This apparent "snub" suggested a greater importance upon internal Russian political affairs over international meetings. Putin also let it be known that he did not want to attend the NATO summit that would be taking place in Chicago around the same time due to Russian opposition regarding U.S. and NATO plans for a missile defense shield in Europe. Yet Putin's visit to Beijing could be presented as being entirely symbolic in nature. The fact that the first country Putin will visit outside of the Commonwealth of Independent States, since taking office on May 7, is China is extremely significant as it reaffirms the importance of Sino-Russian bilateral ties. On the specifics of this visit, Russian Foreign Minister Sergei Lavrov stated that, "We expect to analyze in detail our work for optimizing the structure of bilateral trade, first of all, through the increase of the share of value-added products in Russia's exports to China". And despite trade being an extremely important aspect of the visit, especially in regards to energy, Russia's growing interest and role in the security of the Asia Pacific region reveals a lot about Russian diplomacy, Russian foreign policy, and the realization that China presents a new pole in the framework of international relations. The visit is a very clear sign to the U.S. that China and Russia, or more specifically Hu Jiantao and Vladimir Putin, are working together to strengthen the nascent SCO. Charles Grant, director for the Center of European Reform, says cooperating in areas of global governance, such as the development of the SCO, is necessary because the U.S. is becoming relatively weaker and will therefore not act to strengthen multilateral institutions. As a result, if China and Russia want to build up new multilateral institutions, such as the SCO, Grant says they will have to work together; as this visit provides a clear sign that Putin recognizes this fact. This view has also been echoed by the Chinese Ambassador to Russia, Li Hui, who stated that "the two countries' cooperation in international affairs is not only in their own interests, but also in the interests of building a fair and equitable new international order"; presumably in contrast to the world's existing multilateral institutions. During Putin's visit, he is expected to sign a statement that will strengthen the strategic partnership between the two nations, giving rise to a new concept of security in the Asia-Pacific Region. This is something that China will be keen on establishing following America's decision to establish a greater military presence within the region, though what this new concept entails is not yet clear. The summit will also allow the leaders to liaise on their stances regarding the Syrian and Iranian issues; issues which provide a greater basis for future cooperation between the two countries. At a recent seminar series hosted by the Carnegie-Tsinghua Center for Global Policy, attended by Monterey Institute for International Studies (MIIS) graduate students and Chinese experts, MIIS panelists stated that non-interference represents a core pillar of Chinese diplomacy. As such, the panelists argued that the consensus between Russia and China on this topic provides an avenue for strengthening Sino-Russian relations. The ability to back once another's stance regarding the situation in Syria goes some way in dispelling any possible threat perception that exists between Russia and China and is also a method of opposing Western-led liberal intervention. As for Iran, the SCO summit provides Putin with a perfect opportunity to meet with Iranian president Ahmadinejad in person on the sidelines of the summit, as the pressure mounts regarding Iran's nuclear program. This informal meeting will be doubly important as it comes prior to the third round of talks regarding Iran's nuclear program, which are due to take place on June 18 and 19 in Moscow. The SCO, established in 2001, is an intergovernmental regional security organization made up of several member states, including China, Russia, Kazakhstan, Tajikistan, Kyrgyzstan and Uzbekistan. India, Iran, Mongolia and Pakistan are observer states, while Belarus and Sri Lanka are the summit's dialogue partners.
Please follow these links that influenced this video hereinbelow:
http://agerecontra.itpublicpress20
http://andrewgavinmarshall.com
http://cempaka-hotspots.blogspot.com
http://cheapuggboot.blogspot.com
http://coluichedubita.splinder.com
http://dandelionsalad.wordpress.com
http://editorseye.comwordpress
http://fromscratchnewswire.wordpress.com
http://guerillas-without-guns.blogspot.com
http://history.world-citizenship.org
http://koeridasfgth0117.blogspot.com
http://laptopbattery-mall.co.ukblog
http://mikelogulhi.blogspot.com
http://muhammad-tahir.blogspot.com
http://navanavonmilita.wordpress.com
http://newssourceinfo.blogspot.com
http://okok1111111111.blogspot.com
http://opensourcegeopolitics.blogspot.com
http://politikglobal.blogspot.com
http://rickrozoff.wordpress.com
http://rightways.wordpress.com
http://robinwestenra.blogspot.com
http://sagarweb-broadaster.blogspot.com
http://sta.sivest.php?idhttp://1705448
http://thepeoplesvoice.orgtpv3voices.php
http://theriseofrussia.blogspot.com
http://voiceofkarachi.blogspot.com
http://worldunitednews.blogspot.com